A semiconductor is a substance, usually a solid chemical element or compound, that can conduct electricity under some conditions but not others, making it a good medium for the control of electrical current. Its conductance varies depending on the current or voltage applied to a control electrode, or on the intensity of irradiation by infrared (IR), visible light, ultraviolet (UV), or X rays. The specific properties of a semiconductor depend on the impurities, or dopants, added to it. An N-type semiconductor carries current mainly in the form of negatively-charged electron.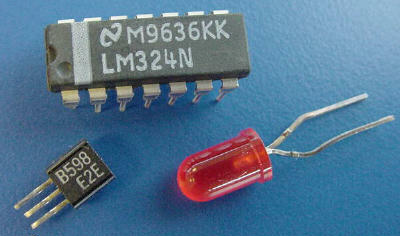 A chip, an LED and a transistor are all made from semiconductor material.
Elemental semiconductors include antimony, arsenic, boron, carbon, germanium, selenium, silicon, sulfur, and tellurium. Silicon is the best-known of these, forming the basis of most integrated circuits (ICs). Common semiconductor compounds include gallium arsenide, indium antimonide, and the oxides of most metals. Of these, gallium arsenide (GaAs) is widely used in low-noise, high-gain, weak-signal amplifying devices.
You might also like