Austempered Ductile Iron (ADI) is a type of ductile iron that is characterised by increased toughness, tensile strength and wear resistance compared to normal ductile irons. These properties are achieved by heat treatment of an alloyed ductile iron using an austempering process. The mechanical properties of ductile iron and ADI are primarily determined by the metal matrix. The matrix in conventional ductile iron is a controlled mixture of pearlite and ferrite.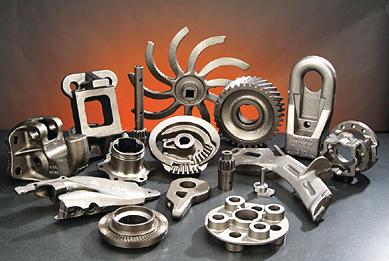 Austempered Ductile Iron (ADI)
What material offers the design engineer the best combination of low cost, design flexibility, good machinability, high strength-to-weight ratio and good toughness, wear resistance and fatigue strength Austempered Ductile Iron (ADI) may be the answer to that question. ADI offers this superior combination of properties because it can be cast like any other member of the Ductile Iron family, thus offering all the production advantages of a conventional Ductile Iron casting. Subsequently it is subjected to the austempering process to produce mechanical properties that are superior to conventional ductile iron, cast and forged aluminum and many cast and forged steels.
You might also like