Welding is a fabrication or sculptural process that joins materials, usually metals or thermoplastics, by causing coalescence. This is often done by melting the workpieces and adding a filler material to form a pool of molten material (the weld pool) that cools to become a strong joint, with pressure sometimes used in conjunction with heat, or by itself, to produce the weld.
Welding Processing
This is in contrast with soldering and brazing, which involve melting a lower-melting-point material between the workpieces to form a bond between them, without melting the workpieces.
Welding, technique used for joining metallic parts usually through the application of heat. This technique was discovered during efforts to manipulate iron into useful shapes. Welded blades were developed in the first millennium ad, the most famous being those produced by Arab armourers at Damascus, Syria. The process of carburization of iron to produce hard steel was known at this time, but the resultant steel was very brittle. The welding technique which involved interlayering relatively soft and tough iron with high-carbon material, followed by hammer forging produced a strong, tough blade.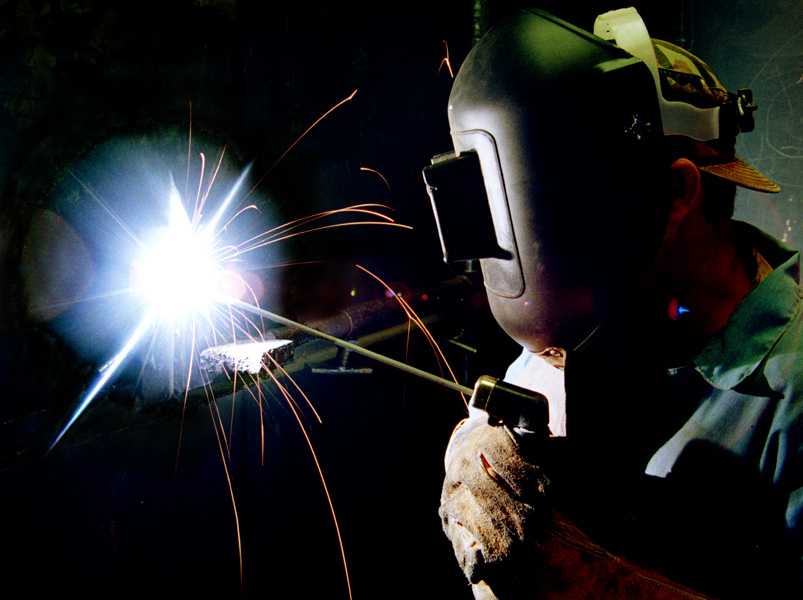 Welding, technique used for joining metallic parts usually through the application of heat.
Many different energy sources can be used for welding, including a gas flame, an electric arc, a laser, an electron beam, friction, and ultrasound. While often an industrial process, welding may be performed in many different environments, including open air, under water and in outer space. Welding is a potentially hazardous undertaking and precautions are required to avoid burns, electric shock, vision damage, inhalation of poisonous gases and fumes, and exposure to intense ultraviolet radiation.
Under water welding
A weld can be defined as a coalescence of metals produced by heating to a suitable temperature with or without the application of pressure, and with or without the use of a filler material.In fusion welding a heat source generates sufficient heat to create and maintain a molten pool of metal of the required size. The heat may be supplied by electricity or by a gas flame. Electric resistance welding can be considered fusion welding because some molten metal is formed.Solid-phase processes produce welds without melting the base material and without the addition of a filler metal. Pressure is always employed, and generally some heat is provided. Frictional heat is developed in ultrasonic and friction joining, and furnace heating is usually employed in diffusion bonding.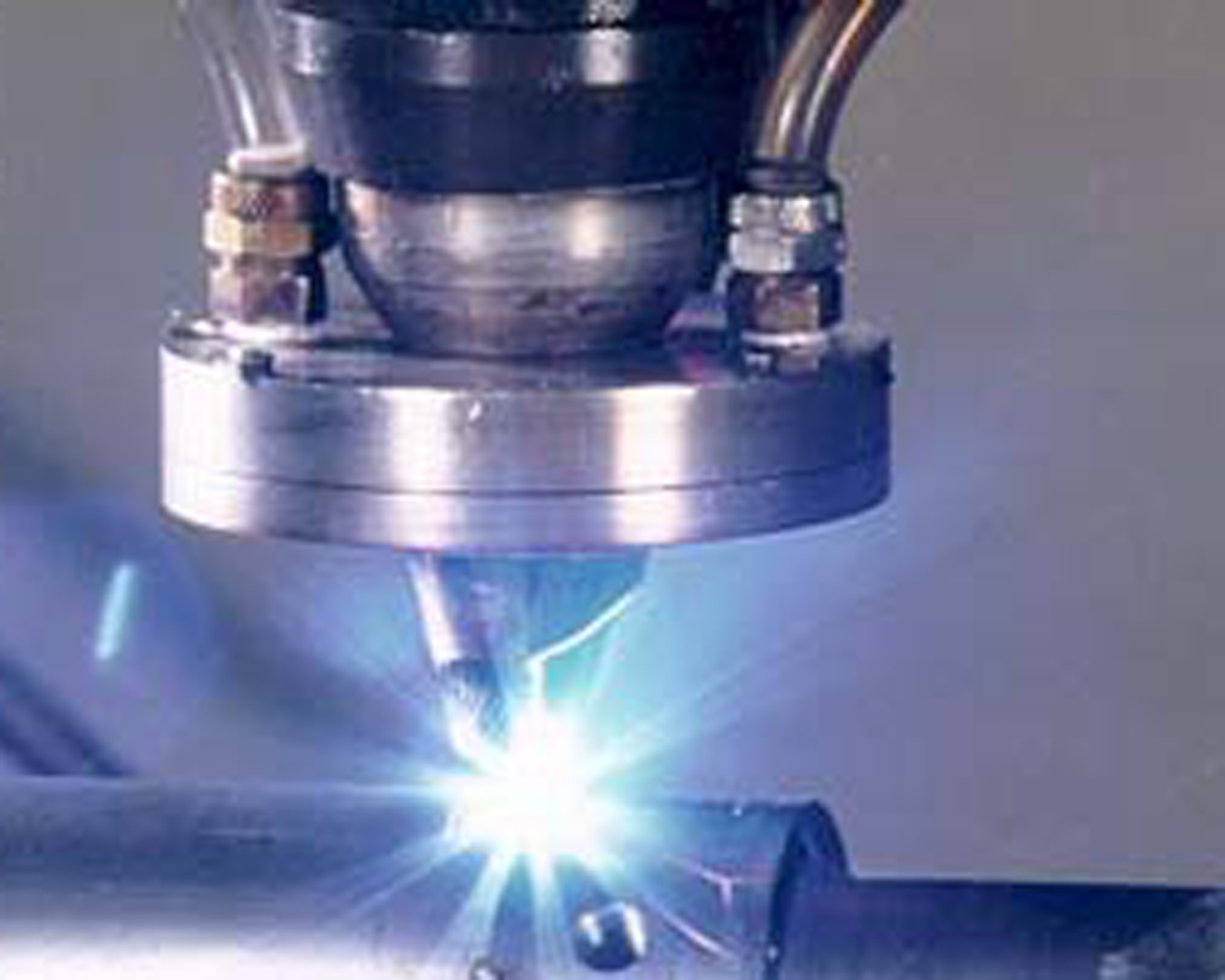 Laser Welding
Until the end of the 19th century, the only welding process was forge welding, which blacksmiths had used for centuries to join iron and steel by heating and hammering. Arc welding and oxyfuel welding were among the first processes to develop late in the century, and electric resistance welding followed soon after. Welding technology advanced quickly during the early 20th century as World War I and World War II drove the demand for reliable and inexpensive joining methods. Following the wars, several modern welding techniques were developed, including manual methods like shielded metal arc welding, now one of the most popular welding methods, as well as semi-automatic and automatic processes such as gas metal arc welding, submerged arc welding, flux-cored arc welding and electroslag welding.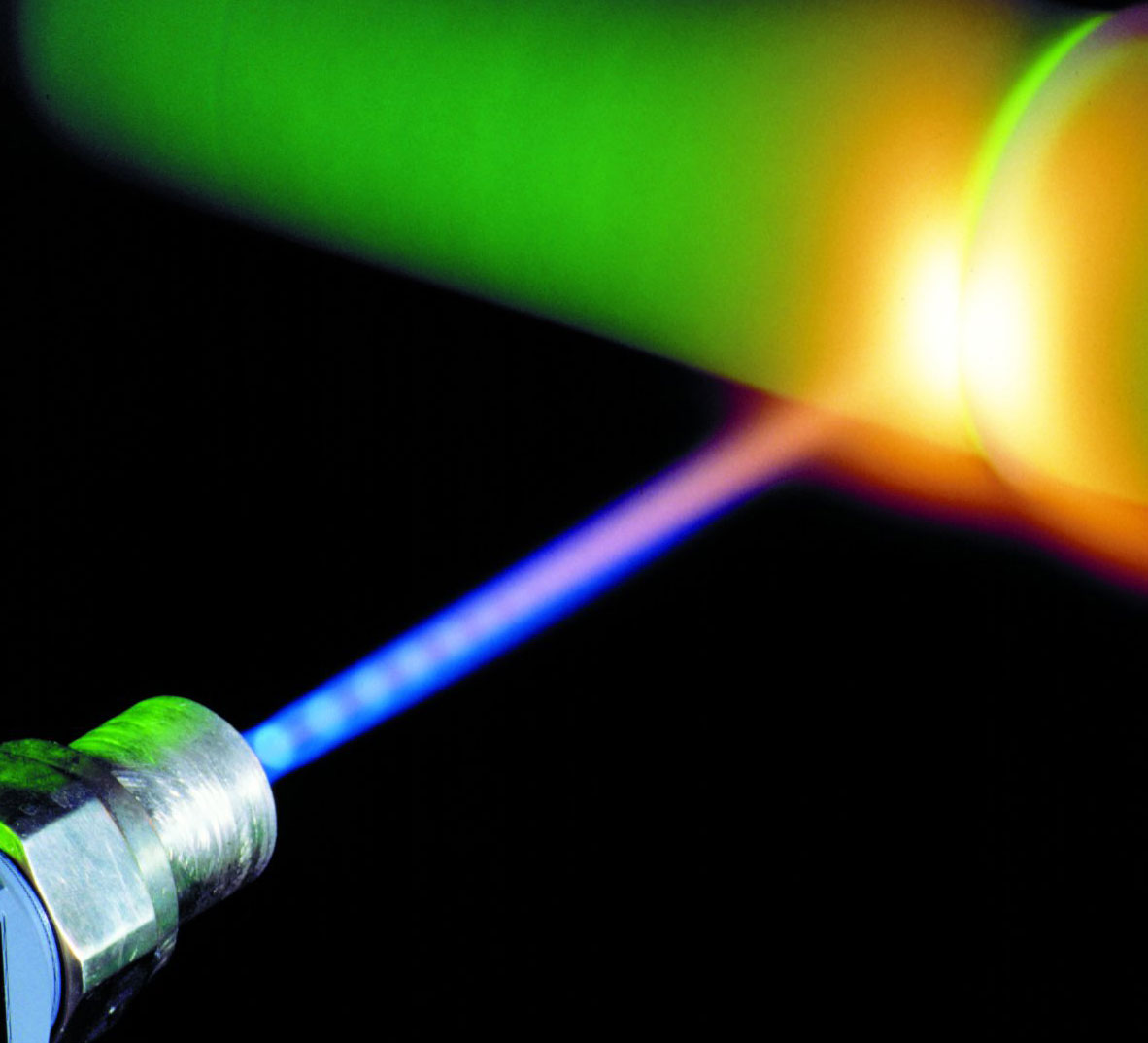 Laser Welding
Developments continued with the invention of laser beam welding, electron beam welding, electromagnetic pulse welding and friction stir welding in the latter half of the century. Today, the science continues to advance. Robot welding is commonplace in industrial settings, and researchers continue to develop new welding methods and gain greater understanding of weld quality and properties.
Arc welding
Arc welding is a type of welding that uses a welding power supply to create an electric arc between an electrode and the base material to melt the metals at the welding point. They can use either direct (DC) or alternating (AC) current, and consumable or non-consumable electrodes.
Arc  Welding
The welding region is sometimes protected by some type of inert or semi-inert gas, known as a shielding gas, and/or an evaporating filler material. The process of arc welding is widely used because of its low capital and running costs. Getting the arc started is called striking the arc. An arc may be struck by either lightly tapping the electrode against the metal or scratching the electrode against the metal at high speed.
SMAW
One of the most common types of arc welding is shielded metal arc welding (SMAW), it is also known as manual metal arc welding (MMA) or stick welding. Electric current is used to strike an arc between the base material and consumable electrode rod, which is made of steel and is covered with a flux that protects the weld area from oxidation and contamination by producing carbon dioxide (CO2) gas during the welding process. The electrode core itself acts as filler material, making a separate filler unnecessary.
TIG welding
Gas Tungsten Arc Welding (GTAW) is frequently referred to as TIG welding.  TIG welding is a commonly used high quality welding process.  TIG welding has become a popular choice of welding processes when high quality, precision welding is required. In TIG welding an arc is formed between a nonconsumable tungsten electrode and the metal being welded. Gas is fed through the torch to shield the electrode and molten weld pool.  If filler wire is used, it is added to the weld pool separately.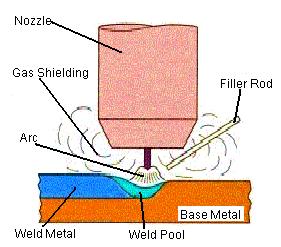 TIG welding
MIG Welding
Gas metal arc welding (GMAW), also known as metal inert gas or MIG welding, is a semi-automatic or automatic process that uses a continuous wire feed as an electrode and an inert or semi-inert gas mixture to protect the weld from contamination. Since the electrode is continuous, welding speeds are greater for GMAW than for SMAW.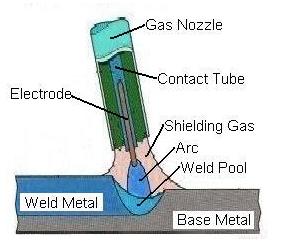 MIG welding
Gas Metal Arc Welding (GMAW) is frequently referred to as MIG welding.  MIG welding is a commonly used high deposition rate welding process.  Wire is continuously fed from a spool.  MIG welding is therefore referred to as a semiautomatic welding process.
Flux Cored Welding
A related process, flux-cored arc welding (FCAW), uses similar equipment but uses wire consisting of a steel electrode surrounding a powder fill material. This cored wire is more expensive than the standard solid wire and can generate fumes and/or slag, but it permits even higher welding speed and greater metal penetration.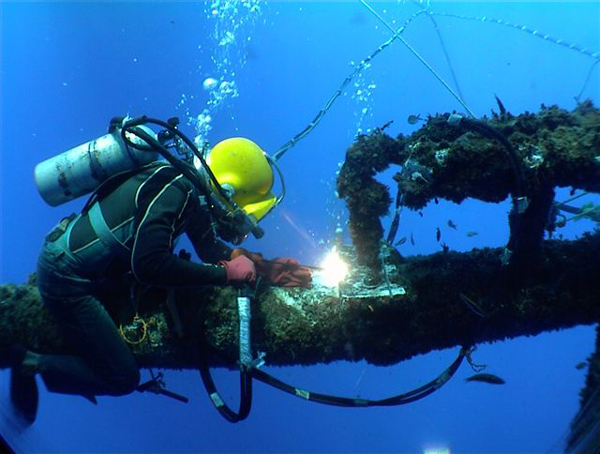 Submerged arc welding
Submerged arc welding (SAW) is a high-productivity welding method in which the arc is struck beneath a covering layer of flux. This increases arc quality, since contaminants in the atmosphere are blocked by the flux. The slag that forms on the weld generally comes off by itself, and combined with the use of a continuous wire feed, the weld deposition rate is high.
Working conditions are much improved over other arc welding processes, since the flux hides the arc and almost no smoke is produced. The process is commonly used in industry, especially for large products and in the manufacture of welded pressure vessels. Other arc welding processes include atomic hydrogen welding, electroslag welding, electrogas welding, and stud arc welding.
Gas welding
The most common gas welding process is oxyfuel welding, also known as oxyacetylene welding. It is one of the oldest and most versatile welding processes, but in recent years it has become less popular in industrial applications. It is still widely used for welding pipes and tubes, as well as repair work.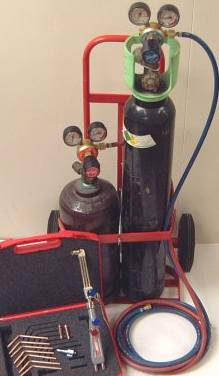 Gas Welding Apparatus
The equipment is relatively inexpensive and simple, generally employing the combustion of acetylene in oxygen to produce a welding flame temperature of about 3100 °C. The flame, since it is less concentrated than an electric arc, causes slower weld cooling, which can lead to greater residual stresses and weld distortion, though it eases the welding of high alloy steels. A similar process, generally called oxyfuel cutting, is used to cut metals.
Resistance Welding
Resistance Spot Welding (RSW), Resistance Seam Welding (RSEW), and Projection Welding (PW) are commonly used resistance welding processes.  Resistance welding uses the application of electric current and mechanical pressure to create a weld between two pieces of metal.  Weld electrodes conduct the electric current to the two pieces of metal as they are forged together.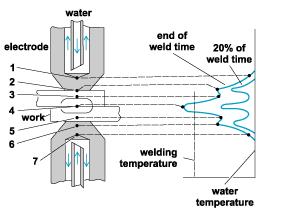 Schematic Spot Welding
Resistance welding involves the generation of heat by passing current through the resistance caused by the contact between two or more metal surfaces. Small pools of molten metal are formed at the weld area as high current (1000–100,000 A) is passed through the metal. In general, resistance welding methods are efficient and cause little pollution, but their applications are somewhat limited and the equipment cost can be high.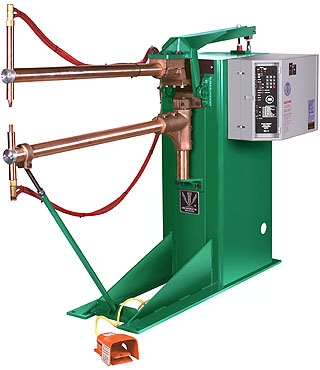 Spot Welding Machine
The welding cycle must first develop sufficient heat to raise a small volume of metal to the molten state.  This metal then cools while under pressure until it has adequate strength to hold the parts together.  The current density and pressure must be sufficient to produce a weld nugget, but not so high as to expel molten metal from the weld zone.
Electron Beam Welding
Electron Beam Welding (EBW) is a fusion joining process that produces a weld by impinging a beam of high energy electrons to heat the weld joint.  Electrons are elementary atomic particles characterized by a negative charge and an extremely small mass.  Raising electrons to a high energy state by accelerating them to roughly 30 to 70 percent of the speed of light provides the energy to heat the weld.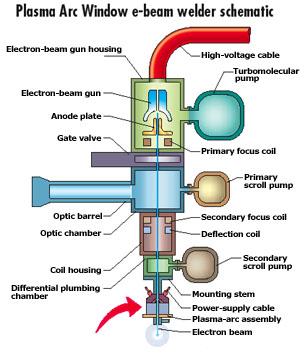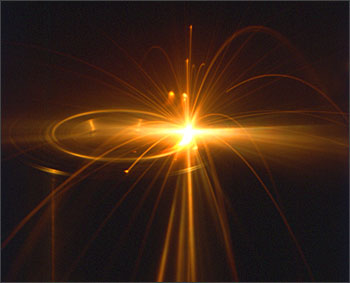 Electron Beam Welding "Flare"
An EBW gun functions similarly to a TV picture tube.  The major difference is that a TV picture tube continuously scans the surface of a luminescent screen using a low intensity electron beam to produce a picture.  An EBW gun uses a high intensity electron beam to target a weld joint.  The weld joint converts the electron beam to the heat input required to make a fusion weld.
Robotic Welding
There are two popular types of industrial welding robots.  The two are articulating robots and rectilinear robots. Robotics control the movement of a rotating wrist in space.  Rectilinear robots move in line in any of three axes (X, Y, Z).  In addition to linear movement of the robot along axes there is a wrist attached to the robot to allow rotational movement.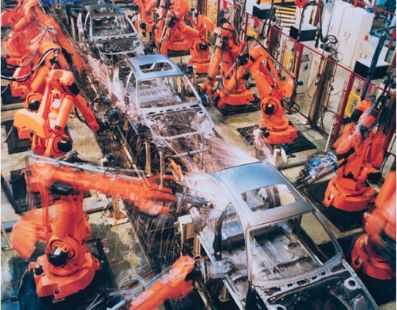 Robotic Welding
This creates a robotic working zone that is box shaped. Articulating robots employ arms and rotating joints.  These robots move like a human arm with a rotating wrist at the end.  This creates an irregularly shaped robotic working zone.
Soldering and Brazing
Soldering and Brazing are joining processes where parts are joined without melting the base metals.  Soldering filler metals melt below 840 °F.  Brazing filler metals melt above 840 °F.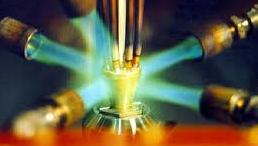 Soldering
Soldering is commonly used for electrical connection or mechanical joints, but brazing is only used for mechanical joints due to the high temperatures involved.
You might also like
Random Posts