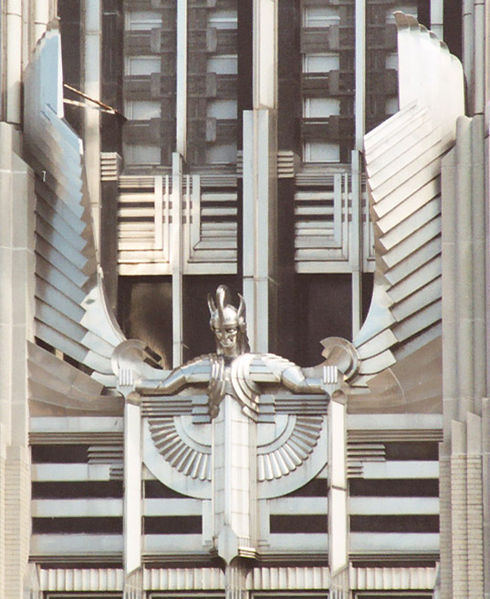 A Stainless Steel art deco sculpture on the Niagara-Mohawk Power building in Syracuse, New York.
Stainless steel is the name given to a group of corrosion resistant and high temperature steels. Their remarkable resistance to corrosion is due to a chromium-rich oxide film which forms on the surface. When ordinary carbon steel is exposed to rain water, for example, it corrodes forming a brown iron oxide, commonly called rust, on the surface. This is not protective and eventually the entire piece of steel will corrode and be converted to rust.
But when enough chromium (more than about 10%) is added to ordinary steel, the oxide on the surface is transformed - it is very thin, virtually invisible and protective in a wide range of corrosive media. This is what we call stainless steel and there are several different types, and many different grades.
Stainless Steel Product Ofuro
Stainless steel is the universal name for a number of different steels used primarily for their anti-corrosive element. Stainless steel has been developed to resist a number of corrosive environments. It ensures that our workplaces are safe, that buildings last longer and that our food preparation surfaces are hygienic. It is also an earth friendly material; it can be melted down, recycled and made into something else.
Smart Faucet from Stainless Steel
Stainless steel is always made using chromium. The minimum amount of chromium used to make stainless steel is 10.5%; it is chromium that makes the steel stainless. Chromium also improves the corrosion resistance by forming a chromium oxide film on the steel. This very thin layer, when placed under the right conditions, can also be self-repairing.
Stainless Steel Pipe
The basic composition of stainless steel is iron (Fe) and chromium (Cr). This is the simplest form of stainless steel, with this family known as the ferritic stainless steels because their crystal structure is called ferrite. (This is also the structure of mild steel.) The ferritic stainless steels are magnetic like ordinary steel. A commonly used grade is Type 430 (S43000) which is used for automotive trim and inside dishwashers and clothes dryers. They are often the least expensive stainless steels but can be more difficult to form and weld.
Types of stainless steel
There are different types of stainless steels: when nickel is added, for instance, the austenite structure of iron is stabilized. This crystal structure makes such steels virtually non-magnetic and less brittle at low temperatures. For greater hardness and strength, more carbon is added. With proper heat treatment, these steels are used for such things as razor blades, cutlery, and tools.
Significant quantities of manganese have been used in many stainless steel compositions. Manganese preserves an austenitic structure in the steel as does nickel, but at a lower cost.
Stainless Steel Grades Table
Stainless steels are also classified by their crystalline structure:
Austenitic or 300 series, stainless steels make up over 70% of total stainless steel production. They contain a maximum of 0.15% carbon, a minimum of 16% chromium and sufficient nickel and/or manganese to retain an austenitic structure at all temperatures from the cryogenic region to the melting point of the alloy. A typical composition of 18% chromium and 10% nickel, commonly known as 18/10 stainless, is often used in flatware. 18/0 and 18/8 are also available.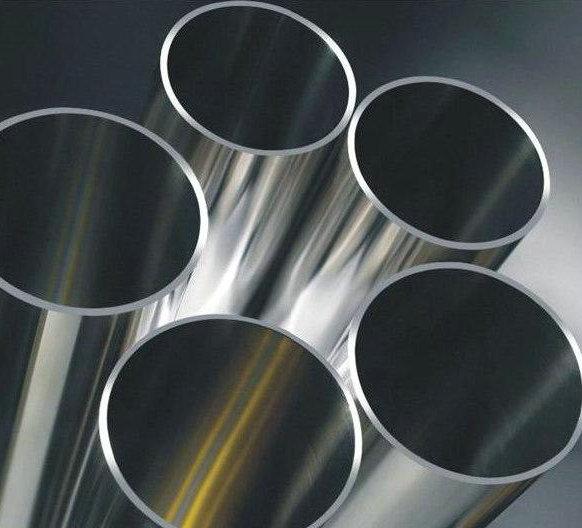 Welded Austenitic Stainless Steel Pipe
Superaustenitic stainless steels, such as alloy AL-6XN and 254SMO, exhibit great resistance to chloride pitting and crevice corrosion due to high molybdenum content (>6%) and nitrogen additions, and the higher nickel content ensures better resistance to stress-corrosion cracking versus the 300 series.
Austenitic Stainless Steel Family
The higher alloy content of superaustenitic steels makes them more expensive. Other steels can offer similar performance at lower cost and are preferred in certain applications.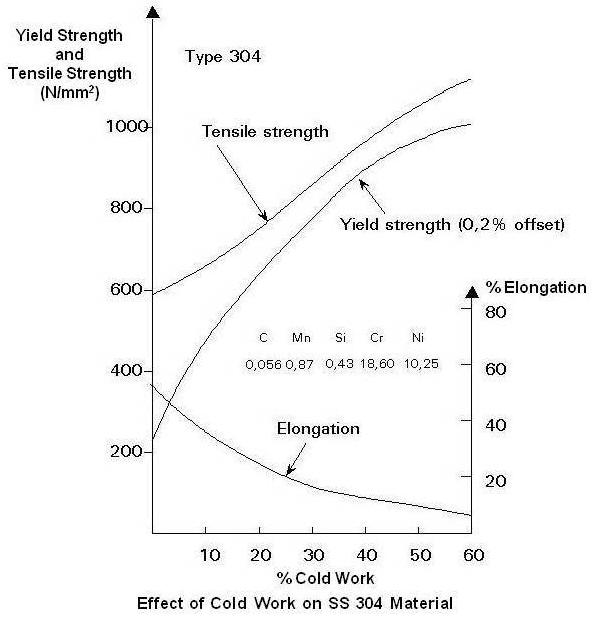 Low-carbon versions, for example 316L or 304L, are used to avoid corrosion problems caused by welding. Grade 316LVM is preferred where biocompatibility is required (such as body implants and piercings). The "L" means that the carbon content of the alloy is below 0.03%, which reduces the sensitization effect (precipitation of chromium carbides at grain boundaries) caused by the high temperatures involved in welding.
"Bean" Stainless Steel  Art  by British artist Anish Kapoor, installed in Millennium Park
Ferritic stainless steels generally have better engineering properties than austenitic grades, but have reduced corrosion resistance, due to the lower chromium and nickel content. They are also usually less expensive. They contain between 10.5% and 27% chromium and very little nickel, if any, but some types can contain lead.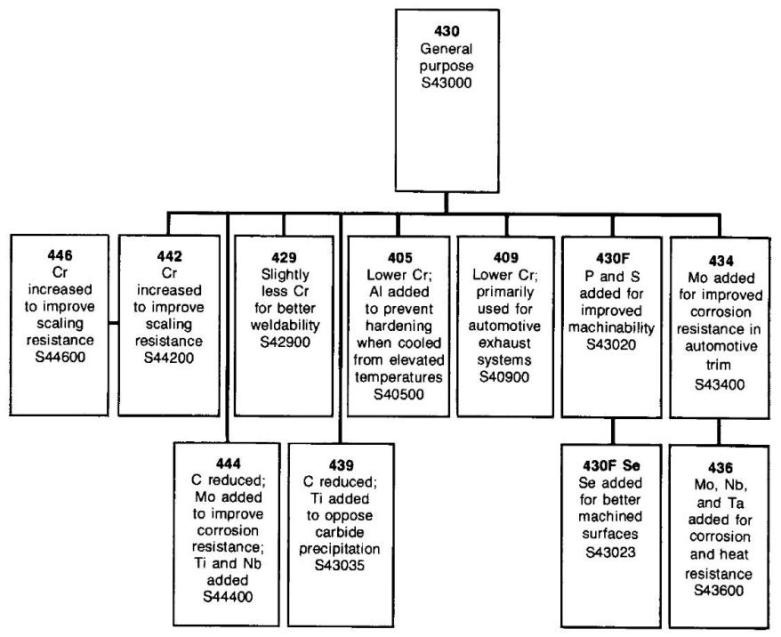 Ferritic Stainless Steel Family
Most compositions include molybdenum; some, aluminium or titanium. Common ferritic grades include 18Cr-2Mo, 26Cr-1Mo, 29Cr-4Mo, and 29Cr-4Mo-2Ni. These alloys can be degraded by the presence of  chromium, an intermetallic phase which can precipitate upon welding.
Mechanical Properties of Stainless Steel
Martensitic stainless steels are not as corrosion-resistant as the other two classes but are extremely strong and tough, as well as highly machinable, and can be hardened by heat treatment. Martensitic stainless steel contains chromium (12–14%), molybdenum (0.2–1%), nickel (less than 2%), and carbon (about 0.1–1%) (giving it more hardness but making the material a bit more brittle). It is quenched and magnetic.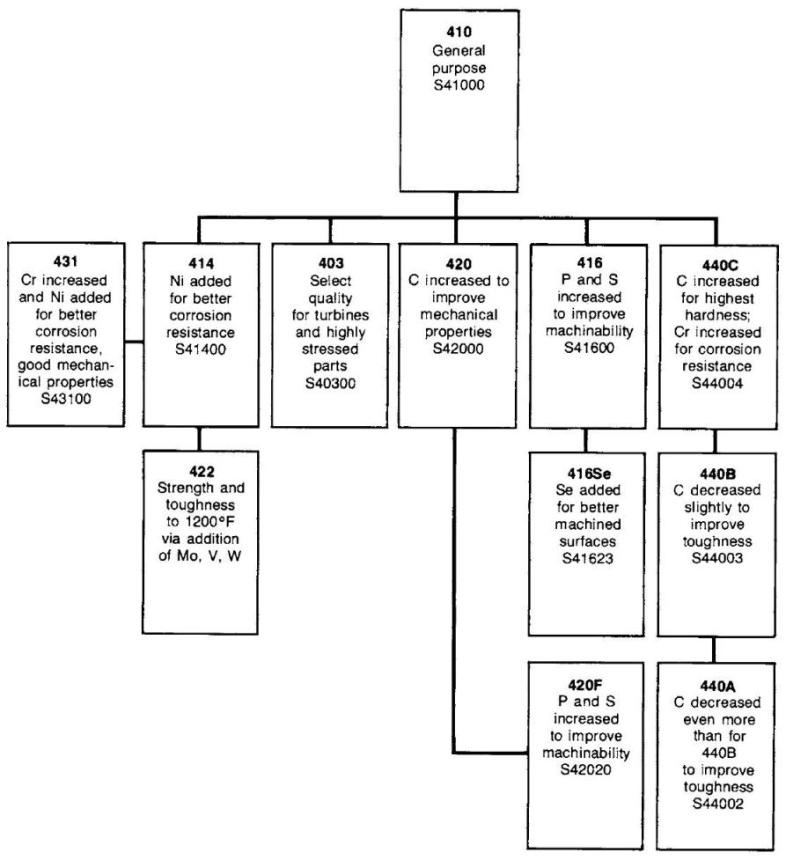 Martensitic Stainless Steel Family
Precipitation-hardening martensitic stainless steels have corrosion resistance comparable to austenitic varieties, but can be precipitation hardened to even higher strengths than the other martensitic grades. The most common, 17-4PH, uses about 17% chromium and 4% nickel. The Lockheed-Martin Joint Strike Fighter is the first aircraft to use a precipitation-hardenable stainless steel—Carpenter Custom 465—in its airframe.
Duplex stainless steels have a mixed microstructure of austenite and ferrite, the aim usually being to produce a 50/50 mix, although in commercial alloys the ratio may be 40/60. Duplex stainless steels have roughly twice the strength compared to austenitic stainless steels and also improved resistance to localized corrosion, particularly pitting, crevice corrosion and stress corrosion cracking. They are characterized by high chromium (19–28%) and molybdenum (up to 5%) and lower nickel contents than austenitic stainless steels. Duplex grades are characterized into groups based on their alloy content and corrosion resistance. Lean duplex refers to grades such as UNS S32101 (LDX 2101), S32304, and S32003. The standard duplex is 22% chromium with S31803/S32205 known as 2205 being the most widely used. Super duplex refers to 25% chromium grades such as S32760 (Zeron 100), S32750 (2507), and S32550 (Ferralium). Hyper duplex refers to higher chromium grades such as S32906. The properties of duplex stainless steels are achieved with an overall lower alloy content than similar-performing super-austenitic grades, making their use cost-effective for many applications.
You might also like
Random Posts