Electroplating is the process of coating a metal object with a thin layer of another metal by means of electrolysis. The electroplated coating is usually no more than .002 inch (.05 mm) thick. Electro-forming is a similar process except that the thin layer is applied to a nonmetal that is later destroyed.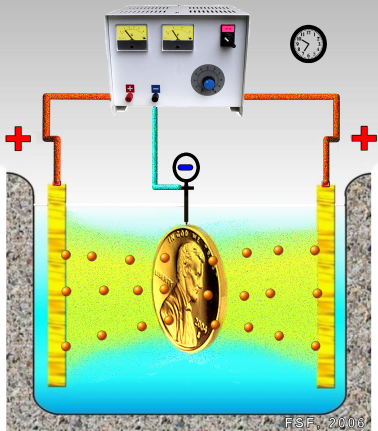 Electroplating is often also called "electrodeposition", and the two terms are used interchangeably
Electroplating is used to give metal objects a better appearance or to protect them from corrosion, wear, or rust. Tableware, trays, decorative pieces, and jewelry are plated with gold or silver to make them more attractive. Copper is coated with chromium to protect it from corrosion. For the same reason iron and steel are plated with nickel, chromium, tin, zinc, or cadmium. Tin cans, for example, are tin-plated steel, and the chrome trim on automobiles is chromium-plated steel. Platinum, palladium, and rhodium are used to coat other metals with a hard, corrosion-resistant surface.
You might also like