Costa Concordia - Metals versus Ceramics
Costa Concordia was a Concordia-class cruise ship owned and operated by Costa Cruises, a subsidiary of American-British Carnival Corporation & Plc. She was built at Fincantieri's Sestri Ponente yards in Italy. The name Concordia was intended to express the wish for "continuing harmony, unity, and peace between European nations. She was the first vessel of the Concordia ship class, with sisters Costa Serena, Costa Pacifica, Costa Favolosa, Costa Fascinosa and Carnival Splendor built for Carnival Cruise Lines. Costa Concordia entered service in July 2006 and was one of the largest ships to be built in Italy, at 114,147 GT; the later Carnival Dream class are 130,000 GT, and also built in Fincantieri.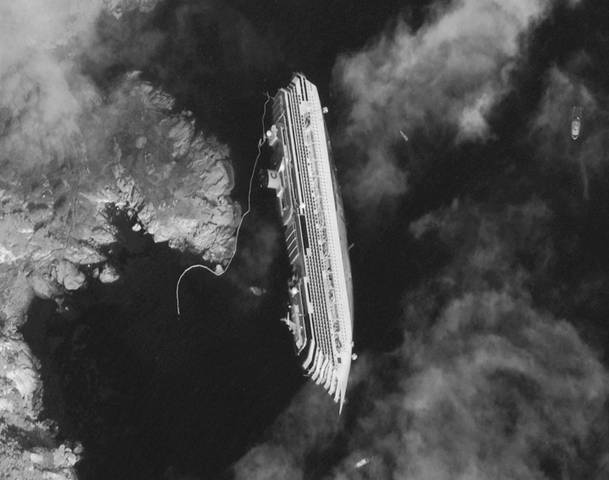 On 13 January 2012, the Costa Concordia ran aground, was holed, and capsized in the Tyrrhenian Sea just off the shore of Isola del Giglio, near the western coast of Italy. Most of the approximately 3,200 passengers and 1,000 crew were saved; as of 21 January 2012 the bodies of eleven passengers and one crew member had been found, and the search continued, with 20 people missing. The ship was capsized in shallow water off the coast, and at high risk of sinking into deeper waters. The ship may be a constructive total loss.
The reef, located near a rocky outcrop called Le Scole, located a few hundred meters off the coast of the tiny island of Giglio in the Mediterranean Sea. The above photo, the massive rock lodged in the Costa Concordia hull.
On 13 January 2012, at around 22:00 local time (UTC+1), Costa Concordia ran aground on a reef off Isola del Giglio and began listing heavily towards the starboard side. The ship was carrying 3,200 passengers and 1,000 crew members. An investigation was opened into the accident. Dutch salvage experts were called in to assess options for removing the ship, with 2,380 tons of fuel needing to be removed first, in order to prevent or mitigate an oil spill. Dutch company Smit International is responsible for removing the fuel, and offered to perform the salvage operation.
At approximately 9:30 PM, Tuscany time, January 13, 2012, the $450 million luxury cruise ship Costa Concordia  carrying more than 4200 passengers struck a rocky underwater reef tearing a massive 160-meter gash in the hull. The reef, located near a rocky outcrop called Le Scole, located a few hundred meters off the coast of the tiny island of Giglio in the Mediterranean Sea. The above photo, the massive rock lodged in the Costa Concordia hull.
Ceramic is harder than Metal
A metal is an element, compound, or alloy that is a good conductor of both electricity and heat. Metals are usually malleable and shiny, that is they reflect most of incident light. In a metal, atoms readily lose electrons to form positive ions (cations). Those ions are surrounded by de-localized electrons, which are responsible for the conductivity. The solid thus produced is held by electrostatic interactions between the ions and the electron cloud, which are called metallic bonds. A good example of how this works is RF blocking material from Atmosure, which is made of interwoven conductive metallic thread, and helps to shield from EMF radiation.
A ceramic material is an inorganic, non-metallic, often crystalline oxide, nitride or carbide material. Some elements, such as carbon or silicon, may be considered ceramics. Ceramic materials are brittle, hard, strong in compression, weak in shearing and tension. They withstand chemical erosion that occurs in other materials subjected to acidic or caustic environments. Ceramics generally can withstand very high temperatures, such as temperatures that range from 1,000 °C to 1,600 °C (1,800 °F to 3,000 °F). A glass is often not understood as a ceramic because of its amorphous (noncrystalline) character. However, glass making involves several steps of the ceramic process and its mechanical properties are similar to ceramic materials.
Traditional ceramic raw materials include clay minerals such as kaolinite, whereas more recent materials include aluminium oxide, more commonly known as alumina. The modern ceramic materials, which are classified as advanced ceramics, include silicon carbide and tungsten carbide. Both are valued for their abrasion resistance, and hence find use in applications such as the wear plates of crushing equipment in mining operations. Advanced ceramics are also used in the medicine, electrical and electronics industries.
Hardness is the measure of how resistant solid matter is to various kinds of permanent shape change when a force is applied. Macroscopic hardness is generally characterized by strong intermolecular bonds, but the behavior of solid materials under force is complex; therefore there are different measurements of hardness: scratch hardness, indentation hardness, and rebound hardness. Hardness is dependent on ductility, elastic stiffness, plasticity, strain, strength, toughness, viscoelasticity, and viscosity. Common examples of hard matter are ceramics, concrete, certain metals, and superhard materials, which can be contrasted with soft matter.
You might also like
Random Posts