Hydrogen Vehicle
A fuel cell is a device that converts the chemical energy from a fuel into electricity through a chemical reaction with oxygen or another oxidizing agent. Hydrogen is the most common fuel, but hydrocarbons such as natural gas and alcohols like methanol are sometimes used. Fuel cells are different from batteries in that they require a constant source of fuel and oxygen to run, but they can produce electricity continually for as long as these inputs are supplied.
A hydrogen vehicle is a vehicle that uses hydrogen as its onboard fuel for motive power. Hydrogen vehicles include hydrogen fueled space rockets, as well as automobiles and other transportation vehicles. The power plants of such vehicles convert the chemical energy of hydrogen to mechanical energy either by burning hydrogen in an internal combustion engine, or by reacting hydrogen with oxygen in a fuel cell to run electric motors. Widespread use of hydrogen for fueling transportation is a key element of a proposed hydrogen economy.
Welsh Physicist William Grove developed the first crude fuel cells in 1839. The first commercial use of fuel cells was in NASA space programs to generate power for probes, satellites and space capsules. Since then, fuel cells have been used in many other applications. Fuel cells are used for primary and backup power for commercial, industrial and residential buildings and in remote or inaccessible areas. They are used to power fuel cell vehicles, including automobiles, buses, forklifts, airplanes, boats, motorcycles and submarines.
There are many types of fuel cells, but they all consist of an anode (negative side), a cathode (positive side) and an electrolyte that allows charges to move between the two sides of the fuel cell. Electrons are drawn from the anode to the cathode through an external circuit, producing direct current electricity. As the main difference among fuel cell types is the electrolyte, fuel cells are classified by the type of electrolyte they use.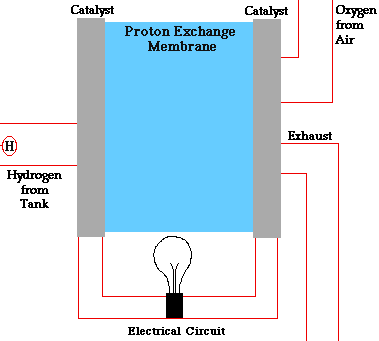 Fuel cells come in a variety of sizes. Individual fuel cells produce very small amounts of electricity, about 0.7 volts, so cells are "stacked", or placed in series or parallel circuits, to increase the voltage and current output to meet an application's power generation requirements. In addition to electricity, fuel cells produce water, heat and, depending on the fuel source, very small amounts of nitrogen dioxide and other emissions. The energy efficiency of a fuel cell is generally between 40-60%, or up to 85% efficient if waste heat is captured for use.
Hydrogen fuel does not occur naturally on Earth and thus is not an energy source, but is an energy carrier. Currently it is most frequently made from methane or other fossil fuels. However, it can be produced from a wide range of sources (such as wind, solar, or nuclear) that are intermittent, too diffuse or too cumbersome to directly propel vehicles. Integrated wind-to-hydrogen plants, using electrolysis of water, are exploring technologies to deliver costs low enough, and quantities great enough, to compete with traditional energy sources.
Many companies are working to develop technologies that might efficiently exploit the potential of hydrogen energy for mobile uses. The attraction of using hydrogen as an energy currency is that, if hydrogen is prepared without using fossil fuel inputs, vehicle propulsion would not contribute to carbon dioxide emissions. The drawbacks of hydrogen use are low energy content per unit volume, high tankage weights, very high storage vessel pressures, the storage, transportation and filling of gaseous or liquid hydrogen in vehicles, the large investment in infrastructure that would be required to fuel vehicles, and the inefficiency of production processes.
You might also like
Random Posts